Welcome to the FilmFestGuy Website
The Adventures of FilmFestGuy
I program a pair of independent film series in NYC (Manhattan's New Filmmakers series at Anthology Film Archives & Staten Island's FilmFest Reloaded...a third series might be coming to Brooklyn...ya never know...).
Please join me on furthering these adventures....
---
FilmFest Reloaded
Tuesday, June 10th
And now onto the next edition of FilmFest Reloaded, on June 10th, we welcome filmmaker Pei-Lin Kuo stops by with a group of short films.
Now settled in New York, born and raised in Taiwan. After graduating with a drama degree in her native land, she worked for a production company in Taipei that made music videos, commercials, and television programs. She relocated to New York in 2002 and started to pursue her career as a filmmaker.
Pei-Lin's first short film 'Everyday' won the 'Someone to Watch 2005' from the CineWomen NY and broadcast by PBS 'Reel New York' in 2007. Her second short film 'A.K.A.08494####'was awarded the 'First runner up' and the 'Most original' from '72 hours film shootout' competition presented by MTV World, ACV and AAFL. Her third short film 'Key Chain' was selected into 'Big Apple Film Festival 2006' and 'Washington DC Independent Film Festival 2007'. Her music video 'true story' was screened at '2006 Sundance Film Festival'. Her new short 'Private Party' will be released soon.
Currently Peilin is actively writing, directing, and producing her own films.
For more information about her work, please visit www.peilinkuo.com.
So please join us on our next adventures with special guest Pei-Lin Kuo this Tuesday, June 10th at FilmFest Reloaded. Admission is free.

See you at 8 PM at Karl's Klipper, 40 Bay Street, across from the St.George post office in Staten Island, just 1 block south of the SI Ferry Terminal.

Thanks for jumping in...

Bill Woods
FilmFest Reloaded
www.filmfestguy.freewebspace.com
---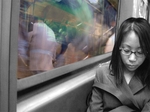 A FILM SHOUT
---
The idea behind film shout serves as the opportunities of being active within your independent film community (New York and elsewhere).

If you are a film festival coordinator, filmmaker or a fellow cinephile give me a shout, filmfestguy@gmail.com, remember your fight is not just your own.

The volunteer positions are not glamorous but they are valuable cogs and stay tuned...

And who knows, you might be apart of history.
---
FILM SUBMISSIONS
For FilmFest Reloaded, email filmfestreloaded@gmail.com.
For New Filmmakers, check www.newfilmmakers.com.
For questions or comments, please email filmfestguy@aol.com.